Hi everybody! I hope you are having a fantastic Friday! This week we are going explore some great ideas about what can be used to hold your wedding cards at your wedding. It is great to have a place where guests can put their wedding cards so they don't get lost in a sea of presents, or even worse disappear off the gift table to never be found again. So without further ado, here are some wonderful wedding card box ideas!
#1 A Bird Cage
Birdcages are elegant, beautiful, and available in a variety of colors. You can also decorate it however you want.
#2 A Mailbox
You get cards from a mailbox anyway, so why not use it to hold your wedding cards?
#3 A Beautiful Hat Box or Boxes
Hat boxes with slits cut in the top can make beautifully easy card holders! Plus if you stack them, they can look like a wedding cake!
#4 A Treasure Chest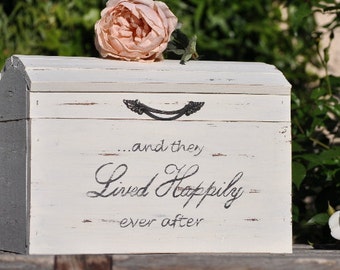 What's better to put your treasure in than a treasure box! I love the idea of have a white one instead of the usual brown and putting a sweet saying on it or the couple's initials!
#5 A Hollowed Out Tree Stump
There are very few card boxes more unique that a tree stump! And it can be a DIY project!
And that is your Friday Five? What kind of card box do you plan to use at your wedding?
Looking for a beautiful yet affordable wedding venue? Georgetown Event Center is the perfect place for you! Located near Austin, Georgetown Event Center in Georgetown, TX is a great place to have your wedding reception. Find out more at www.GeorgetownEventCenter.com.