Easter, that wonderful time of year when an Easter bunny used to bring you eggs filled with chocolate. But Easter isn't just kids! Easter can also be used as inspiration for your Spring wedding! From pastels to colored eggs, Easter can be the perfect inspiration for your wedding.
Ombre eggs in vases make gorgeous centerpieces, plus you can dye them to match your wedding colors!
Pastel bridesmaid dresses scream Spring! You can either have your bridesmaids wear all the same color pastel or let each of them choose their own color!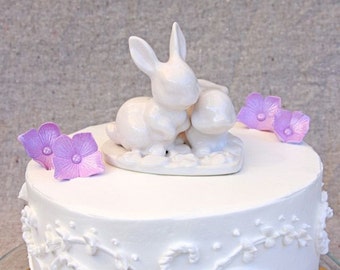 This bunny wedding cake topper is just too cute for words!
Macaroons are a lovely Easter treat, fluffy and sugary! The would be a great substitute for a wedding cake, a delightful dessert, or an amazing wedding favor!
Flowers set in eggshells on top of egg cups would make lovely centerpieces for an Easter time wedding!
Bouquets or centerpieces made with Easter Lilies are beautiful anytime of the year but best at Easter!
The ring bearer could carry your rings in a beautiful (Easter) nest complete with Mr. & Mrs. eggs!
Pastels, Easter eggs, bunnies, and macaroons! Nothing is off limits when it comes to Spring weddings!
Need a place to have your wedding and reception? Check out the Georgetown Event Center! Located outside of Austin in Georgetown, TX, the Georgetown Event Center is the perfect place to have your spring, summer, fall, or winter wedding!